CURRENT EXHIBITIONS
I currently have three (3) of my paintings selected for juried exhibitions both locally and internationally.
THE ROOMS GALLERY – ST. JOHN'S, NL – CLOSES SUNDAY MAY 17, 2015
My landscape watercolour entitled " Ancient Rocks Share Their Space" was selected for the Arts & Letters Exhibition in St. John's, Newfoundland at The Rooms Provincial Gallery (www.therooms.ca/artgallery)
Since 1952, the Province of Newfoundland and Labrador has celebrated excellence in the arts though the Arts and Letters Awards. This annual awards program affords a special opportunity for writers, musicians and visual artists – young and old, amateur and professional – to showcase their talents through a variety of media. The Rooms is pleased to present this year's winners and works of merit selected by the adjudicators in the categories of visual art, literature and music.
You can view all 35 visual arts pieces selected for this year's Government of Newfoundland & Labrador Arts & Letters Awards Exhibit every day this week.
__________________________________________________________________________________________________________________
SOCIETY OF CANADIAN ARTISTS – ONLINE – CLOSES JULY 15, 2015
My piece "Giant Step From Signal Hill to Cape Spear" was selected to show in the Society of Canadian Artists Online Exhibition this year.
The painting in this exhibit is a landscape from Signal Hill, a fascinating landmark near my home in St. John's, Newfoundland & Labrador. The Hill has a very colourful history and wonderful hiking trails, but what catches my attention is the amazing profusion of plants surviving in the crevasses of 500,000 year-old rocks. Here is a link to view my paintings as well as the other artists.
http://shop.societyofcanadianartists.com/exhibitions/2015-national-open-juried-sca-online-exhibition-exposition-concours-nationale-en-ligne-2015-de-la-sac/
The Society of Canadian Artists (SCA) was created in 1957 and is a national, non-profit artists' organization dedicated to expanding the visibility and stature of the visual arts. SCA has representation in all of the visual arts media. We respect our historical roots, are aware of our current world, and are future-minded.
http://www.societyofcanadianartists.com/content/splash/splash.aspx
__________________________________________________________________________________________________________________
AIBÍTIR EXHIBITION AT THE HUNT MUSEUM, LIMERICK, IRELAND
I have a piece entitled "Su talun fiain – Wild Strawberry" featured in The Hunt Museum in Limerick, Ireland. The opening will be on May 12, 2015 at 6:00pm and will close on June 28th.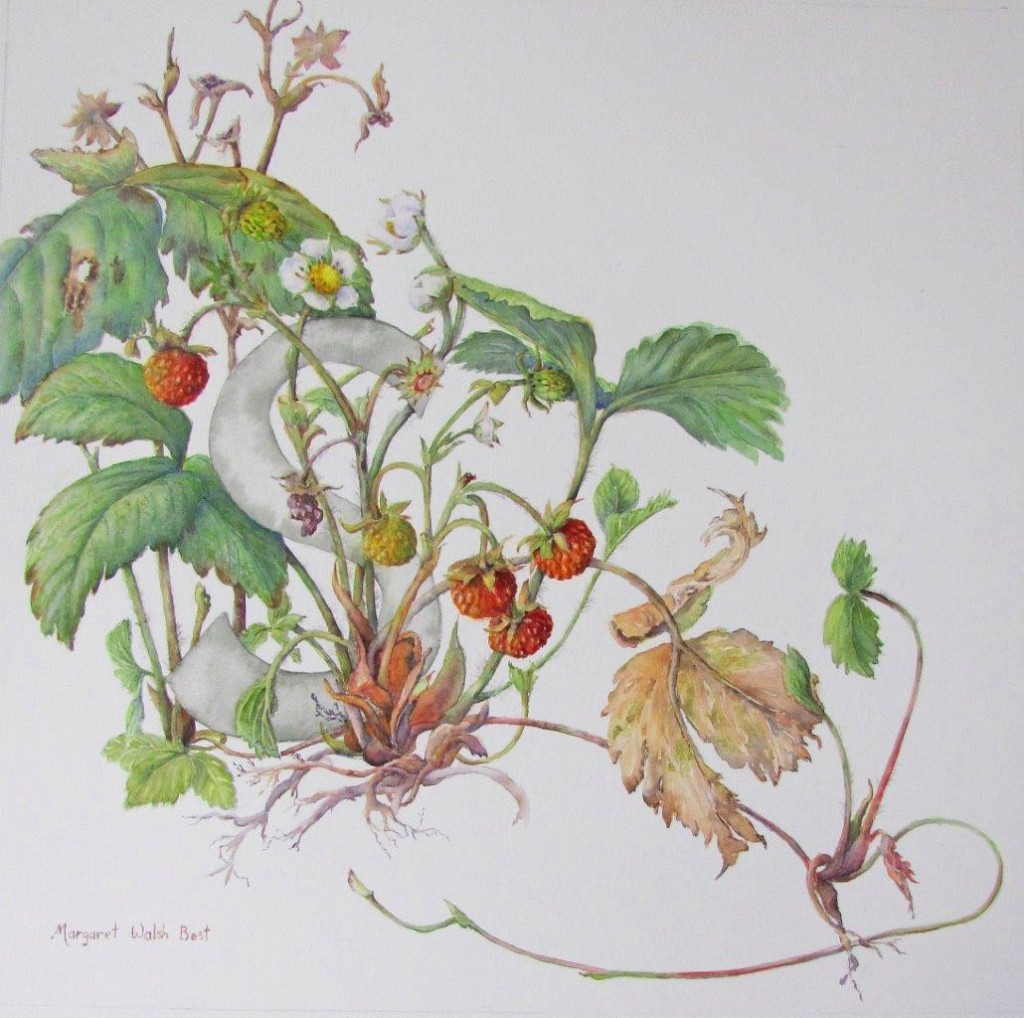 http://www.irishbotanicalartists.ie/aibitir-belfast/
Here's is a write up from the ISB website with more touring dates:
Following the successful showings of Aibítir: The Irish Alphabet in Botanical Art in Dublin, Derry and Belfast in 2014, Derry the exhibition continues during 2015 in a number of venues, including Bunclody Library Co. Wexford (March); The Hunt Museum, Limerick (12 May–28 June) and Christ Church Cathedral, Waterford (10 July – 21 August).
If you have friends or family in either location, do let them know about these opportunities to see this wonderful exhibition.