Workshops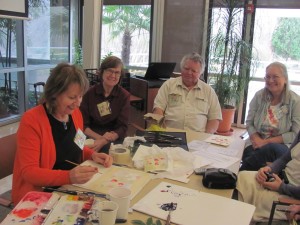 Each year I host a series of 1-5 day workshops. From introductory to advanced levels, the goal of the workshops is to present a full art experience, with instruction and demonstration coupled with time for the participants to work on their own. Travelling to a variety of studios and historic sites throughout my home province of Newfoundland & Labrador, into other parts of Canada and the USA and Europe, workshops are focused on the landscape or floras of some of these amazing spaces.
My own studio, Island View Studio in Tors Cove, NL, less than 40 km south of St. John's, NL, is the home base for a number of my summer workshops. The landscapes of the East Coast Trail surrounding it provide endless inspiration. Whatever the location, near or far, you will find an encouraging atmosphere, individual attention and the inspiration to help you realize your potential.
To broaden the experience, I occasionally invite a guest instructor/artist to join in my workshop series. The instructors come from a cross-section of the best artists in their respective media, both from the province and from around the world. As they deliver expert instruction and immerse you in the art process, they inspire creativity and dynamism.
Regardless of the site all workshops are designed to allow the participants to explore the painting process, while giving them the opportunity to discover the surrounding landscape. The world lying just outside the studio allows the participants to experience colours in the landscape, the delicacy of a blossom, the movement of the ocean and the textures of the cliffs. The goal is to make each session an art experience. Please don't hesitate to contact us at info@margaretwalshbest.com for more detailed workshop descriptions.
Margaret Walsh Best Artist and Art Educator on Facebook
Margaret Walsh Best on Instagram